yesterday my boyfriend had planned a nice day trip for us.
this is what a wore, alongside my beloved topshop sailor coat when it got cold, and sometimes a grey scarf. i also had a black bow in my hair which he thought made me look very much like minnie mouse.
the cardigan is so very nice and is from country road. the shorts are american apparel.
first we went to a park and sat under a tree to have a picnic. it was the least healthy assortment of foods i had ever seen, but it was nice all the same. i brought my laptop and we watched the hangover, so that i would be up to speed when we went to the movies a few hours later to see the sequel. it was interesting, to say the least. we were right near the water so we caught a ferry anywhere that we needed to go, which was awfully nice.
i really should have taken some more pictures, but it makes me so sad to have to use my pathetic little point-and-shoot.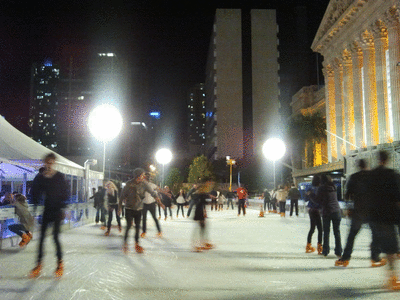 brisbane is hosting an event called the 'winter festival' at the moment. it is one of the nicest things brisbane has ever done, in my opinion. in the heart of the city a big outdoor skating rink has been set up for a month along with a whole bunch of other nice festivities. at night, this was where we went. we were awfully bad at skating, but awfully good at eating churros, which you could find within a string of foreign food vendors surrounding the rink. unfortunately, the whole setup lacked a little romance (and crowds are extra scary when you give them skates and put them on ice), but we still managed to have a very very nice time.
isn't it nice that i managed to capture that cute couple in my pictures! i did not realise until i had gotten home and flicked through them all.